Niagara 1812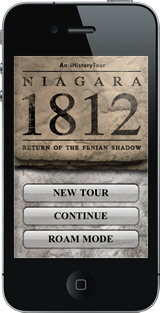 Niagara 1812 is a heritage tour and game for the iPhone and iPod Touch, based on the War of 1812. The application uses simulations, role playing and strategy to provide its users with an opportunity to immerse themselves in the historic facts of this conflict. So far, there are two applications that have been released as a result of this project: Niagara 1812: Return of the Fenian Shadows (set in the historic town of Niagara-on-the-Lake) and Niagara 1812: The Bomber's Plot (set in the historic village of Queenston).

Each application has a number of functions, but it can best be described as a historical, interactive tour of Niagara-on-the-Lake and the village of Queenston. The iPhone becomes the user's tour guide, taking the visitor to the town's historic sites and providing interesting facts and stories that relate to the period. For example, the guide will lead you to Niagara-on-the-Lake's apothecary (drugstore), one of the oldest in Canada, and describe how asthma patients were encouraged to smoke cigars to combat their asthma. The GPS tour also lets users know of shops and restaurants in the area, making it easy to navigate the historic towns. The most interesting aspect of the application is the quest mode which allows users to solve a historic mystery. The quest incorporates historic landmarks in a guided walking tour, and makes users feel as though they are immersed in a story that took place in a different historical era. The latest release, Niagara 1812: The Bomber's Plot, tries to uncover the culprits behind the bombing of Brock's Monument, which was destroyed in 1840. The monument has since been rebuilt, but those responsible were never brought to justice.
The iPhone apps was created by Dr. Kevin Kee, a Canada Research Chair and Brock University history professor, and his team (Niagara residents, and mostly Brock University students). The projects were developed in collaboration with nGen-Niagara Interactive Media Generator, and funded by the Ontario Media Development Corporation and the Ontario Trillium Foundation.
For more information, please view the website at www.ihistorytours.com